Today I give you Part 2 of what will continue to be a recurring piece at Jimmy's Very Unusual, where the still-anonymous-by-choice creator of the
Mid-day Margarita
and I put our brilliant minds together to discuss the hot issues you readers care about. Today we're out of those, so we're going with Miley Cyrus.
HERE
's last week's co-blog in case you missed it.
Margs:
So I've recently (yesterday) become appalled by Miley Cyrus.
Jimmy T:
Really? Is it the hair? The pics of her clubbin with her twin (Bieber)? Or did you finally see her twerk vid at the Juicy J concert?
Margs: None of the above. I hated her back when my little sister used to make me watch Hannah Montana. But then she fixed her teeth and got better clothes - and even when she cut her hair off she seemed kind of cool. And she somehow got Liam Hemsworth to propose to her, so I was like okay Miley's okay with me.
But then she was named number 1 on Maxim's hottest 100 list (along with only other Disney children:
http://lidsblog.wordpress.com/2013/05/09/mickey-mouses-maxim-100/
), and she was still cool with me, but I started to think she was getting a little overrated... hottest woman alive? I mean I know they look better, but her teeth are still huge.
And then I saw (and heard) this, and I've come full circle. Miley is awful again.
Jimmy T: The Maxim thing is probably a stretch, but I'm not mad at it. Then again Bar Rafaeli won it last year and she was hot enough to pull Leo, but I've been digging Miley's Ivan Drago hair swag (probably because I'm a guy who just used the word swag) and her teeth certainly aren't a dealbreaker for me. To put her chompers in perspective, I'd still do unforgivable things to Lacey Chabert.
And I gotta be honest, I love everything about this video. Putting fake makeup lips right next to your real lips is fire. Sunglasses in the bathtub? Trendsetting. And there's a 1000% chance you've spelled out "TWERK" in your Spaghetti-O's before.
Margs:
I hate Spaghetti-O's. Always have, always will. Hot dogs are nasty too, especially if Miley is serving them to you fresh out of a pinata. I also hate Wonder bread. It's the single most disgusting thing you can buy at a grocery store.
So if I were to ingest money, I wouldn't eat it sandwiched between Wonder bread...I'd rather smoke it like Lady Gaga does in this video that Miley unsuccessfully tried to rip off, right down to the gold nails:
And I'm not saying I'm not jealous of her 0% body fat, but are multiple shots of her bony pelvis really that appealing?
Jimmy T: Great artists steal from other great artists, that's just how it is. Bruno Mars had the #1 song in the country thanks to a Police sample. Kobe has tried to copy Jordan since the day he entered the NBA. A lot of people have accused me of stealing Brad Pitt's face. That's the world we live in.
I have no problems with Miley constantly showing her mid drift provided she's always wearing this shirt..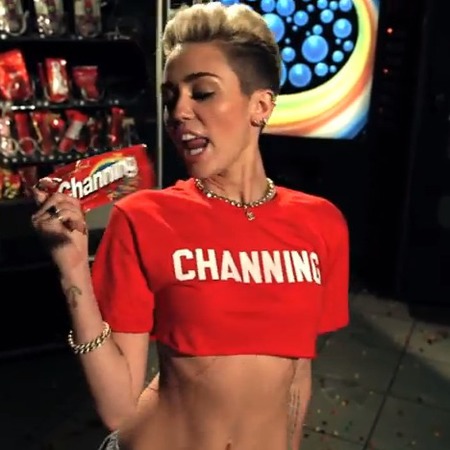 Channing, so hot right now. Channing.
Which reminds me in a totally unrelated way. I've been out with you plenty of times in dancy NYC spots - how come I've never seen you twerk before?
Margs:
I wait until you're not looking. Also, I've been hesitant to steal a signature move from the great artist that is Miley Cyrus. But you've enlightened me, and now I know it's okay.
If you want, I'll get you a belly shirt just like that for Christmas that says "Miley."
Jimmy T: But then what will I do with my "Gosling" belly shirt? #celebritycrushbellyshirtproblems
Let's get back to the "We Can't Stop" video real quick. Musically you have to admit it's an audible masterpiece. I could totally see you and the roomies on a Brooklyn rooftop in July belting this at the top of your flannel-covered lungs. This jam has summer anthem written all over it. It's not quite "Party in the USA" but I won't not listen to it 1000 straight times this weekend.
Margs:
First of all, what makes you think I would wear flannel in July - or ever really? This is no summer anthem, and I'm sorry but Miley's musical career peaked with her first single "See You Again," which I may request for our next rooftop party's playlist.
But "Party in the USA" could be considered 2010's song of the summer seeing as I was greeted by this one morning senior year:
Although, the lyrics to "Can't Stop" are probably the most poetic of anything she's ever done: "Dancing with molly, doing whatever - we want." She's getting a lot of heat for alluding to drugs in her song, but I get it. "Molly" rhymes with "ladadeedadee" and "party" (kind of). Then there's the part where she sings "to my homegirls here with the big butts" to three black girls. Racist.
Jimmy T: Not a fan of her Lauryn Hill quality rhyme skills I see. OK, let's take the Miley Challenge. We each get 4 lines to come up with our best Miley-style lyrics and the best (worst) lyricist wins. Here's what I got (in "We Can't Stop" melody of course):

"Twerkin' on the stage at the concert,
Make it rain dear like Donnerrr.
I think I wanna marry my pelvis,
Flat top got me lookin' like Elvisss."
Margs: You're putting me on the spot, but I feel like Miley is channeling an energy more like this:

"Was on Disney with my daddy
Then I got caught with a fatty
But I don't care what haters say
'Cause I be twerkin' all day erryday"
To her credit, the song has been stuck in my head all day now. You win, Miley. You always do.